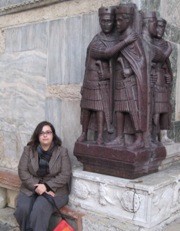 Eleanor  M  Rust 
Title:  Visiting Assistant Professor
Office:  303  Blegen Library
Tel: 513-556-1948
Email: 

Eleanor Rust earned her PhD in Classics in 2009 from the University of Southern California. Her dissertation, "Ex Angulis Secretisque Librorum: Reading, Writing, and Using Miscellaneous Knowledge in the Noctes Atticae," discusses the role of random order and miscellaneous content in forming a useful collection of knowledge. She is fascinated by problems of knowledge organization and access, both in the ancient world and the rapidly changing modern world.

Eleanor received her BA in Classics with honors in 1999 from Indiana University. She first spent time in Rome as an undergraduate at the Centro, and returned as a 2008 Rome Prize Fellow at the American Academy in Rome. As a graduate student at USC, she worked on the Greek symposium and the Roman convivium before discovering second-century Latin literature and intellectual culture. Other research interests include early modern reception of antiquity, ancient and modern book culture, and genres usually considered subliterary, such as encyclopedias and cookbooks.


Presentations & Lectures
Paper Presentations
Eleanor M. Rust. A Disordered Life: Autobiography and Miscellany in the Noctes Atticae. "Writing the self, writing lives in Greco-Roman culture" panel, APA Annual meeting. 01-2010.[Link]
Eleanor M. Rust. Disorder and Memory: Organizing Knowledge in the Noctes Atticae. The Technologies of Memory: Latin Literature and the Preservation of the Past, 2008 Pacific Rim Latin Literature Seminar, University of British Columbia. 08-2008.
Honors & Awards
Dorothy and Lewis B. Cullman Pre-Doctoral Rome Prize, American Academy in Rome, 09-2007 to 08-2008.
Jacob K. Javits Fellowship, U.S. Department of Education, 08-2000 to 05-2004.