PRAP Site Gazetteer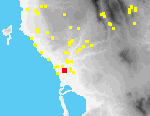 I04&nbsp Romanou Romanou
Periods Represented
(EH), (MH?), LH IIIB, A, C-HL, R, Byz, Ott-EMod, EMod, Mod
Actual Area in Hectares
38.07 ha.
On-site Density (Sherds per Hecatare)
10.50
Ratio of On-site Density to Off-site Density
2058
Collection Strategy
Selection (S) => Micro-tract (M) => Vac. strip (VS)
Location and Description
The modern village of Romanou is built on the SW side of a low hill that rises above the coastal plain ca. one km. from the coast, S of the Selas River. The ancient site of Romanou is immediately N and E of the modern village; artifact densities are especially high around the cemetery church of the Ypapadti tou Hristou near the E edge of the village.[038.30] Fields that comprise the site are principally planted in olives and vines, although there are also scattered modern house compounds, greenhouses, and market gardens.
The church is surrounded by an enclosure wall and sits on a plateau[096.11] overlooking terraced fields that slope to the E. Fragments of tile, roughly worked blocks, and stone slabs, probably reused from earlier structures, are incorporated in the enclosure wall.[096.12] Digging of graves within the churchyard continues to bring ancient artifacts to the surface.
NE of the church, a dirt track was bulldozed through the site in 1992; large quantities of artifacts
[096.10]
are now eroding from its scarps. In a field E of the church, three rectangular stone blocks were found in a pile of stones; one of these, probably part of an epistyle,
[023.12]
is now in the Hora Museum.
Most prehistoric finds, pottery and lithics, were recovered in the NW part of the site, between the Tragana-Romanou asphalt road and the Selas River. Also in a field in the NW part of the site, there are locally dense concentrations of tile, a long worked sandstone slab, and many flat schist slabs.
Various ancient finds in the area of Romanou had previously been reported by UMME and others (e.g., tile graves in the village and a pithos discovered by the church of Ayia Triada). Scattered concentrations of A, C, HL, R and Med date were reported by UMME "generally E of Petrochori and Romanou" (see UMME # 400 [Romanou Viglitsa]).
Intervisible Sites
Koryfasio Pisaski (B6); Hora Palace of Nestor (B7); Tragana Voroulia (C3); Koryfasio Beylerbey (I1); Tragana Hasanaga (C4)
Artifact Summary
References
UMME # 400;Prakt (1909) 291-92; AD (1973-4) 320; Prakt (1909) 289; Valmin 1930: 146-48; BCH (1962) 726, 728; AD (1961-2) 92
All texts and images made available through The Pylos Regional Archaeological Project: Internet Edition are for personal use only. Reproduction of these materials without prior permission is prohibited.
Questions about the PRAP online database can be addressed to John Wallrodt at john.wallrodt@uc.edu.