PRAP Site Gazetteer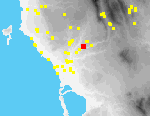 B04&nbsp Hora Zoodohos Piyi (2)
Periods Represented
(Byz-EMod)
Actual Area in Hectares
-
On-site Density (Sherds per Hecatare)
1.74
Ratio of On-site Density to Off-site Density
279
Collection Strategy
Tract material only.
Location and Description
On a narrow bulldozed terrace on the SE side of the Englianos ridge, about 1 km. NE of the Palace of Nestor, two chamber tombs are cut into the bedrock, their dromoi facing SE and separated from each other by c. 3.5 m.[095.20][113.24] Only the back of the chambers are preserved; the dromoi and front of the chambers were presumably destroyed when the terrace was bulldozed. The back walls of the chambers are preserved to a maximum height of 1.8 m., their floors to a max. depth of 1.3 m., and their ceilings to a max. depth of 0.6 m. Max. pres. W. of the chambers is 1.7 m.
Between the summers of 1993 and 1994 both tombs were excavated illegally; holes were dug into the chambers and a pile of backdirt lay in front of each.[095.18] No artifacts were found by us in this debris and none can be clearly associated with use of either tomb.
Intervisible Sites
-
Artifact Summary
The single body sherd collected from this site must be loosely dated to the period range Byz-EMod. The sherd is worn, with traces of white slip covered by green glaze on the interior.
References
-
All texts and images made available through The Pylos Regional Archaeological Project: Internet Edition are for personal use only. Reproduction of these materials without prior permission is prohibited.
Questions about the PRAP online database can be addressed to John Wallrodt at john.wallrodt@uc.edu.