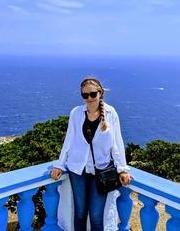 Anna  Aleksandra  Belza 
Email: This email address is being protected from spambots. You need JavaScript enabled to view it.

Anna Belza is a PhD student in Aegean Prehistory. She recieved her B.A. in Classical Studies from Sweet Briar College and her M.A. from Brandeis University. Her research interests include Aegean Prehistory, Early Iron Age Greece, archaeological theory, and the history of archaeology. She has conducted fieldwork at: Palace of Nestor Excavations, Hora Apotheke Reorganization Project, ASCSA Athenian Agora Excavations, and Apollonia Pontica Excavations (Sozopol, Bulgaria; Balkan Heritage Field School), and has participated in the ASCSA Summer Session (II) in 2012.
Presentations & Lectures
Paper Presentations
The Imagined Boundary: Mycenaean Messenia Hither and Further Lands. "Bridging the Gap: Connecting Scales of Human Interaction", Boston University 12th Biennial Graduate Conference. 2015.
You Can't Sit With Us: Social Stratification in Mycenaean Feasting. "Under the Influence: Wine in the Ancient Mediterranean", Brandeis University Second Graduate Student Symposium. 2015.
The Philistine Question: Continuity or Imitation of Mycenaean Material Culture?. "Reproduction and Repurposing in Antiquity", The 2015 Canadian Institute in Greece's Biannual Student Conference. 2015.
Portraying the Cultural Other: The Exoticism of Ancient Greek Art.  Sweet Briar College Senior Colloquia. 2012.