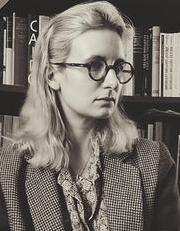 Angelica    Wisenbarger 
Email: This email address is being protected from spambots. You need JavaScript enabled to view it.

Angelica is a PhD student in philology. She holds a BA in Classics from Denison University and MPhil from Cambridge (she followed cranky Erasmus to Queens' College). Her interests include ancient notions of etymology and semantics, particularly Varro's and Plato's; [ab]uses of semantic multiplicity (in poetry, puns, riddles, magic); Hellenistic literary epigram; Latin palaeography; ancient notions of sight, light, and shadow; the riddles of Symphosius; and historical linguistics.

insidias nullas vereor de fraude latentis,
nam deus attribuit nobis haec munera formae
quod me nemo movet nisi qui prius ipse movetur.