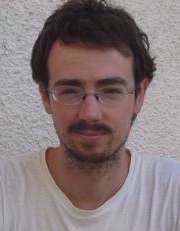 Simone    Agrimonti 
Email: This email address is being protected from spambots. You need JavaScript enabled to view it.

Simone Agrimonti is a fourth year PhD student in Ancient History. He received his BA from the University of Genova (Italy) in 2011 and his MA from the Alma Mater Studiorum - University of Bologna in 2013. His research interests mainly focus on Greek history, with particular attention to the political and military structures of the Hellenistic world, the historiography of the Classical age, and to the epigraphic evidence from different areas of the Mediterranean.
Publications
Articles & Book Chapters
Bencivenni A., S. Agrimonti. 2014. "The IGCyr Project. Encoding Codes, Translating Rules, Communicating Stones in Ptolemaic Cyrene and in Contemporary Bologna," in Information Technologies for Epigraphy and Cultural Heritage. Proceedings of the First EAGLE International Conference, ed. S. Orlandi, R. Santucci, V. Casarosa, P.M. Liuzzo, Roma, pp. 351-368.
Agrimonti, S. 2016. "Xenophon's Piety Within the Hipparchikos," in The Religious Aspects of War in the Ancient Near East, Greece, and Rome, ed. K. Ulanowski, Leiden, pp. 194-205.
Presentations & Lectures
Paper Presentations
Xenophon and the unequal phalanx: a 4th century view on political egalitarianism. 147th AIA/SCS Meeting, San Francisco, CA. 01-2016.
The right wing as the centre of gravity of the hoplite phalanx. International Ancient Warfare Conference 2014, Aberystwyth, UK. 07-2014.
Xenophon's piety within the Hipparchikos. Religious Aspects of War Conference, Gdansk, Poland. 05-2014.
The egalitarianism of the hoplite phalanx. Scottish Classics Postgraduate Conference 2014, Edinburgh. 02-2014.
Events Organized
Conference. Ricerche a Confronto 2014 (03-2014 to 04-2014),  Bologna, Italy.