Andrew J Connor



This e-mail address is being protected from spambots. You need JavaScript enabled to view it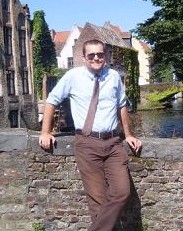 Professional Summary
Andrew Connor is a PhD candidate in Ancient History. He received a BA in History from the Honors Tutorial College of Ohio University and an MA in Ancient History from the University of Cincinnati. He is currently the Burt Hodge Hill Fellow at the American School of Classical Studies at Athens. His dissertation explores the economic and legal infrastructure of the temples of Middle Egypt in the Roman period through the use of documentary papyri from three cities and the Fayum. His interests include documentary papyrology, Hellenistic, Roman, and Byzantine Egypt, the practice and rhetoric of eastern religions in the Greek and Roman world, the state use of religion, and the construction and organization of spatial awareness.
Peer Reviewed Publications
Andrew Connor 2010. A Lease of Urban Property from Hermopolis. Bulletin of the American Society of Papyrologists, 47, Pp. 111-116.
Paper Presentations
Andrew Connor. The Impiety of the Persians?: Herodotus and the Creation of an "Impious East". International and Intercultural Relations in the Near and Middle East from Antiquity to the Present, University of Toronto. 03/05/2009.
Andrew Connor. Superstition and Tyranny: Herodotus, the Persians, and the 'Impious Persian'. Sumer to Caesar Graduate Student Symposium, Cincinnati, OH. 03/31/2009.
Andrew Connor. "Beset on All Sides by Peasants": Making the Worker Invisible on the Roman Villa. Archaeological Institute of America 2010 Annual Meeting, Anaheim, CA. 01/07/2010.
Andrew Connor. Loaves' Labors Lost: Loving the Dead in Herodotus. CAMWS Annual Meeting, Grand Rapids, MI. 04/03/2011.
Andrew Connor. οὐ κατὰ νόμον: In bed with Herodotus' tyrants. Sumer to Caesar Graduate Student Symposium, Hebrew Union College. 03/30/2011.
Courses Taught
15-CLAS-238 GRK LAT ELE MEDTECH.

15-LATN-101 ELEMENTARY LATIN.

15-LATN-102 ELEMENTARY LATIN.

15-LATN-103 ELEMENTARY LATIN .

15-CLAS-101 INTRO ANC HISTORY.

15-CLAS-102 INTRO ANC HISTORY.